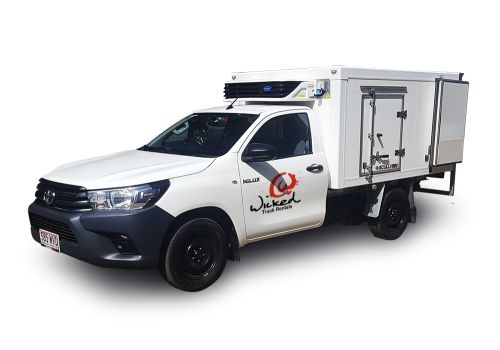 Refrigerated Vehicles
book now
Automatic Transmission
Carrier refrigeration unit
+20C to -20C temperature range
Electric Standy Power
Commercial leasing options
CD/Radio/Bluetooth
Wicked Truck Rentals' refrigerated vehicles are perfect for emerging or expanding businesses all around Australia - premium vehicles at the lowest rates. Our aim is to provide affordable options for our clients whether they're hiring for a day, a weekend or need a reliable, long-term solution. Our weekly an monthly rates are heavily discounted, making us the easy choice for your business..
Our refrigerated vehicles have a 1-tonne payload, 2-pallet storage, standby electric power with a temperature range of -20˚C to +20˚C as well as rear and side door access to cargo. Ideal for anyone in food service industries, catering, customer deliveries or business to business transport.
Get an instant quote and book online now, or speak to us if you would like to enquire about a custom long-term leasing solution.
Disclaimer: The vehicles and information featured here should be used as a guide only. Vehicles and the accessories, features and dimensions may vary from location to location. Vehicles are subject to availability and may not be available at all locations. Licence requirements may vary per state, please check at time of booking.